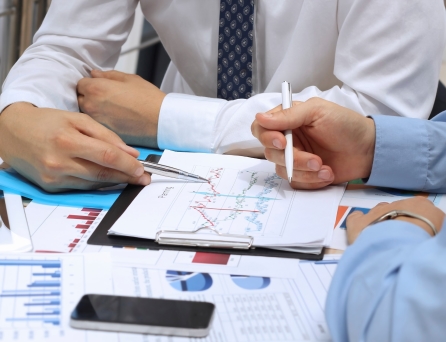 Blair & Assoc CPA's PLC was started in October, 2011 by Ed Blair. Shortly thereafter, it acquired the practice of W.S. Logan, Inc. (WSL), an established and highly regarded tax preparation firm. WSL focused primarily on individual tax and the trust and estate areas. WSL prospered over its 30 year history primarily through its reputation for superior client service, quality work and reasonable fees.
Blair & Assoc continues based on that same foundation - superior client service, quality work and reasonable fees. All 10 employees from WSL continued in employment and our first tax season in 2012 was a fairly seamless transition.
One aspect that changed is the focus on small business tax preparation and consulting. We understand that business owners are balancing many responsibilities and make an abundance of decisions. Successful businesses are so because they consistently make good decisions. While accounting data is often necessary in making those choices, unless it is timely and accurate, the info is useless. And a trusted advisor is someone who can interpret this information to assist the business owner in making those strategic decisions.
While we rely heavily on our predecessor's proud history of over 30 years, Blair & Assoc looks forward to another 30 years of serving individuals and business owners in the Greater Richmond area.
Our professional staff includes:
This email address is being protected from spambots. You need JavaScript enabled to view it.
This email address is being protected from spambots. You need JavaScript enabled to view it.
This email address is being protected from spambots. You need JavaScript enabled to view it.
This email address is being protected from spambots. You need JavaScript enabled to view it.
This email address is being protected from spambots. You need JavaScript enabled to view it.
This email address is being protected from spambots. You need JavaScript enabled to view it.
This email address is being protected from spambots. You need JavaScript enabled to view it.
This email address is being protected from spambots. You need JavaScript enabled to view it.